Manufacturer of dental matrix system, Dr. Walser Dental, under top 3 of the "International Best Factory Award"
22/02/2007
The managing director and owner of the Dr. Walser Dental, Gerhard R. Daiger, was honoured for outstanding performances on February 22nd in the journalist club of Axel Springer in front of more than 230 guests from politics and economy. At the same time the manufacturer of dental instruments, among other a sectional matrix system, was awarded to one of the best enterprises of its class.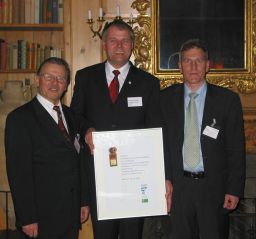 Right off the Dr. Walser Dental GmbH reached this top rank at the participation in this benchmarking project "International Best Factory Award".
The method of the recording of the data in the countries Great Britain, Italy and Germany is identically and through comparably with international top standards.
The organizer "market and medium-sized businesses" invited to the prize day in the Axel Springer building in Berlin. The gala evening took place for invited guests in the exclusive ambiance of the journalist club of the publishing house group. The prize-winners and nominated ones celebrated their successes with the guests up to the early morning hours.