Make your small patients feel happy

!
The Kids Kit, ideal if things have to move quickly
Ideal tooth matrices for children
In the treatment of two surface restorations and available interdental space, the X-shape matrix brings a relief - especially with children. Since with the X-shape sectional matrices nos. 1 and 13, two fillings on neighbour teeth can be made simultaneously.
In general, only one filling can be made per appointment due to their impatience. Not only the children will be pleased!
In case of MOD fillings the O-shape matrices nos. 5, 7, and 25 are particularly suitable.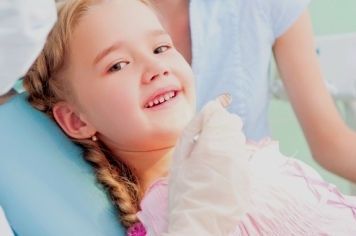 Click here for further advantages of the Walser® Dental Matrix
Dr Jiri Proch, Tulln/Austria
"...Ideal points of contact, very good anatomy and sensational quickness. A very important point especially in children. I recommend Walser Matrices to all physicians who settle down with a private clinic, too."
Dr Elke Noelke, Wuppertal/Germany
"I get along with it  fantastically, because Walser Matrices are applied on the tooth by spring force perfectly. Even the assistants are very excited because the cotton roll holder holds the saliva better than any other system. And for children the X shape is ideal."
Anja Bilow, Frankfurt am Main/Germany
"Very wonderfully easy handling. Fast, secure placement, best matrix system for child care, always tight, beautiful shape."
Monika Groß, Halberstadt/Germany
"...Easy application, time saving, very good patient's acceptance (especially children!). I am enthused about the matrices for last molars, now these fillings are made relatively quickly and anatomically satisfying. Altogether, the system is well composed and definitely recommendable. Your presentation at the dental fair did not promise too much! Many thanks!"
Dr Melek Ince, Wiesbaden/Germany
"I have used your Walser matrices with great success for years. Particularly successful for treating milk teeth are the nos. 1 and 2 in combination with using wedges. I am dentist for children and adolescents."
Dr Wolfgang Gonser, Starnberg/Germany
"I'm very happy with it. They apply very well and quickly. Because of that, the treatment is very well accepted by the patients, especially children always know to appreciate speed."
Bettina Broscheit, Norderstedt/Germany
"Even from the handling working with Walser Dental Matrices is simply good, much easier than if I had to compose entirely of individual parts from a sectional matrix and wedges. Especially on the milk tooth I can therefore work particularly well. I can explain to the children directly with the die, what I am doing and why it "pinches" a bit and that it is over in just a minute. And so it is!"
You find more "testimonials of enthusiasm" here