Dr. Walser Dental nominated for the Grand Prix of the small and medium-sized businesses
12/06/2007
The manufacturer of dental matrices, represented by the owner Gerhard R. Daiger, was suggested from an official institution out of over three millions enterprises in Germany as award worthily and already counts to the top enterprises in the country.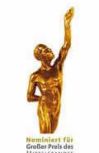 Extensive documents had to be presented until April 15th. Eleven country juries then will determine the finalists of every country. These are announced for Baden-Wurttemberg together with Bavaria, Rhineland-Palatinate, Saarland and Hesse in the Maritim hotel Würzburg where the award takes place for the 13th time on October 13th.
From all nationwide country finalists the prize-winners of the nationwide special reduced prize are honoured at the federal ball in Berlin on November 3rd with many prominent figures from politics, economy and public.
The annually lending of the Oskar-Patzelt foundation from Leipzig is performed under this year's ball motto "It goes to 13".
The "Grand Prix of the small and medium-sized businesses" of the the Oskar-Patzelt foundation is the most important small and medium-sized businesses competition and is an exception: started as a local initiative in Leipzig in 1994, established since 2003 as an intersectoral competition nationwide. Innovation, education, growth or regional engagement is not isolated but the enterprise is regarded as a whole. More than 1000 institutions have nominated enterprises in Germany this year. Although the prizes are not remunerated, no other competition reaches such a great and continuous resonance.To win there is honour and public recognition but no financial incentives. And although participation or handling fees are renounced from the beginning, the complete competition is organized completely in an honorary capacity and exclusively financed privately.
More than 150 personalities collaborate into twelve juries nationwide, 29 regional service points, two advisory boards and further committees of the Oskar-Patzelt foundation. In May the jury discuss who shall become a finalist or prize-winner in the twelve competition regions in 2007. The decisions will be announced to the awarded ones in Baden-Wurttemberg first at the award gala in Würzburg on the 13th October.