Certificate of Prime Minister Günther H. Oettinger
14/12/2007
Gerhard R. Daiger, the managing director of the Dr. Walser Dental GmbH, manufacturer of dental matrices, was honoured for his extraordinary voluntary engagement in the honorary office by the Prime Minister of the country Baden-Wurttemberg, Günther H. Oettinger. For the successful participation in the competition "Echt Gut! - Ehrenamt in Baden-Württemberg 2007" he received a certificate.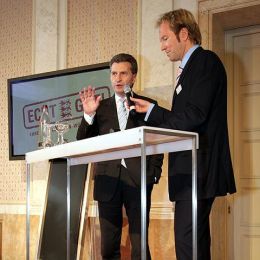 Daiger fights for the 3rd world with fund-raising campaigns since 1993, he invites the population and institutions to take part to this, regularly. By the sale of stamps and the auction of valuable stamp albums the proceeds are of benefit to training vacancies of teenagers in Tanzania and India.
Since 1995 Gerhard R. Daiger regularly supports unemployed and businessmen in all questions of the business start-up and safeguarding.
With support of ENBW Energie Baden-Württemberg AG, the Sparkassen association Baden Württemberg and the state foundation Baden-Württemberg the Land government Baden-Württemberg has started a competition already for the fourth time under the motto "Echt gut! – Ehrenamt in Baden Württemberg" where outstanding activities in the field of civic engagement and the honorary office are honoured.
Photo by: Sascha Baumann
The prize day took place in the new castle of Stuttgart on November 22nd, 2007.